HSBC China Office Headquarters
Headquartered in Shanghai, HSBC Bank (China) Co., Ltd. is located in the core area of ​​Lujiazui in Pudong District. It is located in one of the twin towers of Shanghai IFC, and named it "HSBC Tower – Shanghai International Gold Center". From the HSBC Building, the Huangpu River, the Oriental Pearl Tower, the Lujiazui Greenland and the surrounding prosperous business district have a panoramic view, and with a dazzling diamond shape, it is bound to become a new landmark in Shanghai.

The Hongkong and Shanghai Banking Corporation Limited is one of the most foreign-invested banks in the Mainland. The total investment in Chinese-funded financial institutions and their own development has exceeded US$5 billion. HSBC China has a total of 99 outlets, and its expanding branch network is second to none among foreign banks in China. The HSBC Building of the Shanghai International Finance Center is an international top-level property in the Pudong New Area. It is a masterpiece of a collection of leading Hong Kong and world-class architects and designers. The HSBC China office headquarters HSBC Building has a total of 20 floors, with a total area of ​​about 53,000 square meters. The building employs a professional property management team that caters to the most rigorous standards of modern businesses and provides a wide range of banking and financial services to clients and businesses.

In recent years, the relevant departments of Pudong District are actively expanding their business. In addition to vigorously developing the new Shanghai commercial city business district, they are also actively expanding the central business district of Zhengda Plaza. HSBC's strong entry into the National Gold Center has made the Lujiazui new business district even more dazzling.
In order to fully meet the needs of multinational companies, this project must not only meet the requirements of the regional headquarters of global financial and service organizations, but also enhance the image of Shanghai's international financial city. At the same time, HSBC China Office Headquarters also put forward requirements in lighting control: it must reflect the principle of people-oriented while reflecting energy-saving and advanced, and provide employees with a comfortable office environment. In this regard, Crestron provides advanced and flexible intelligent lighting and automation control systems, combined with the corresponding lighting fixtures, to provide a perfect lighting control solution for all areas of the building.
Ethernet power supply system is referred to as POE power supply, which consists of Ethernet power supply equipment and Ethernet power equipment. It can transmit data and provide DC power supply to client equipment only through one Ethernet cable, without the need for additional wiring.Gigabit POE Switches are divided into managed and non-managed POE switches ,non-standard POE switches which do not meet the IEEE802.3af/at. and also it has indoor series and outdoor series with 10/100/1000M input and output port.
Features:
1. Can recognize the impedance of the signal. When an input voltage is applied to the device, it must be roughly identified within the defined voltage range. When an ethernet power device pleads for power supply, it first sends out the voltage signal of 2.5V~10V to Ethernet. After detecting the voltage signal, the power facility puts a 23750 ohmic resistor on the power supply circuit, and the current changes with the input voltage. By detecting the current, it is confirmed that there is an effective Ethernet power supply at the Ethernet cable terminal. If the arranged resistance value is in the area of 26250 / 45000 ohms, it is considered that the ethernet equipment is effective but does not need to supply power. Resistive values of other sizes mean that the detected ethernet equipment is useful.
2. Type. Electricity is equipped with a type of gap, each type corresponding to not a certain current. Analogy, the "0" class of electricity is equipped with a current of 0.5 Ma 4 Ma. When an effective signal is detected by a power supply, it is classified. The specific method is to lift the voltage to 15.5V or 20.5V on the Internet link, so that the Ethernet power equipment loses a static current, and then completes the classification of the power facilities according to the current scale.
3. Open coherent connection. There are two kinds of switches connected to Ethernet power supply (Poe power supply), one is bipolar crystal switch, which has high utility and low capital, and the other is MOSFET switch, which has extremely high power performance and can be close to 100th.
Application:
Suitable for different Ethernet devices such as: IP phone, network security camera, PDA, mobile phone charger, card reader, etc.
Product images: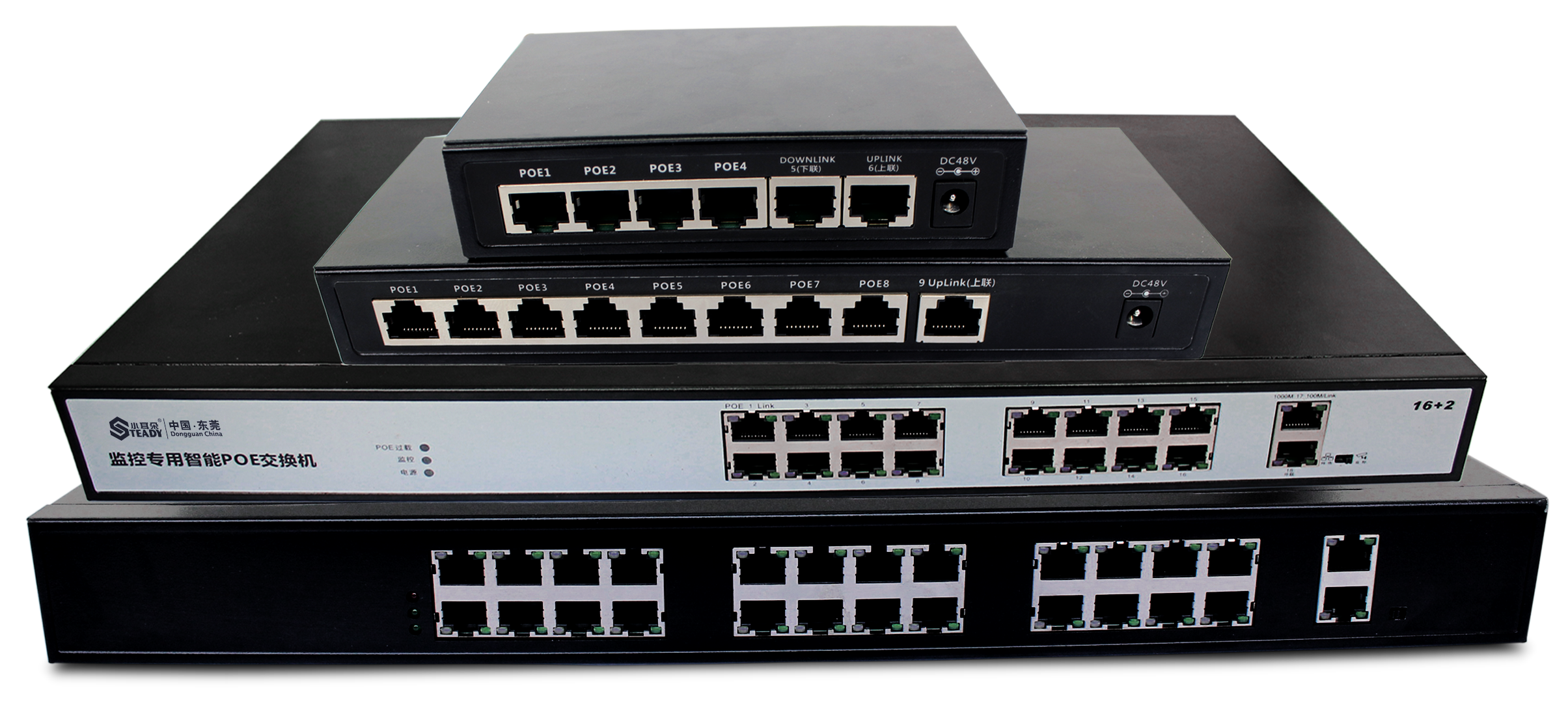 POE Switches
Unmanaged POE Switch,POE Switches,Smart POE Switch,Network Switch POE
Dongguan Xiaoerduo Electronics Co., Ltd. , https://www.steadysmps.com