October 18, 2004... DORADO?s High Power Design Reduces Heat and Extends Lamp Life, Ideal for Multiple Applications
HONG KONG, COTCO International Limited, a pioneer in the development and delivery of light emitting diode (LED) components and one of Asia?s emerging technology leaders, today announced the launch of the DORADO, the most cost-effective, high-lumen one -watt LED on the market which features the smallest footprint in the industry.
The DORADO is ideal for a diverse range of applications including interior and exterior architectural lighting, entertainment, large signage, decorative lighting, and landscape lighting. Ease of installation, competitive cost and superb brightness makes it an essential product for architects, manufacturers and designers.
?With the DORADO, COTCO is introducing a new breed of high efficiency LED lighting that sets industry standards and moves to another level of sophistication,? said Richard Sy, General Manager, COTCO International Ltd. ?The DORADO?s matchless durability, reliability, And flexibility allow it to meet the diverse needs of specifiers, designers, and end users.?
The DORADO?s peak performance is achieved through an exposed pad design that greatly improves thermal performance and results in excellent heat dissipation and longer lifespan while minimizing over-heat issues commonly encountered by users of high-power LEDs.
The product represents apart from other LED lights because it features a molded lens package design that offers unrivalled usage, consistency and reliability, greatly reduced vibration and shock failures. The DORADO also enables greater adaptability as it is specifically designed for implementation to SMT assembly equipment infrastructure .
Users are no longer required to purchase additional equipment because the DORADO can solder reflow equipment and adapt to the existing production system.
Founded in 1982 and working from its headquarters and base in Hong Kong, the COTCO Group has more than 20 years of experience and expertise in manufacturing in China. For over 10 years, the company has pioneered the development and delivery of high brightness LED components and Technology for lamps, modules, displays and other applications for a broad range of industries, including full-color video screens, signage, traffic signals, automotive lighting, and specialty lighting.
COTCO?s production base in China utilizes state-of-the-art equipment and facilities to take advantage of the fast-evolving LED market, weaving together innovative talent with unsurpassed engineering to drive new levels of performance and applications for LED products such as the DORADO. About COTCO COTCO International Limited has pioneered the development and delivery of LED (light emitting diodes) products and technology for modules, lamps, displays and other applications since 1982. COTCO has established a global network of strategic partners that adhere to the highest standards Selecting all the best dyes worldwide, COTCO?s innovative and versatile engineering team packages it into a high quality, user-friendly LED products that cater to the specific needs of customers for an array Of applications, including full color video screens, signage, traffic signals, automotive lighting and specialty lighting. Based in Hong Kong, t He company is poised to become a global business leader, taking the lead in the advancement of increasing important LED technology and products. For more information, please contact the Asia Pacific headquarters in Hong Kong at (852) 2424-8228 or visit at www. Cotco.com.
###
Media Contacts:
Asia: The Consultancy
Bianca Zee
852-3114-6337 / 852-3114-6336
USA: Topaz Partners
Bill Wrinn
781-388-7900 x217

SCANhead series high-speed scanning galvanometer can carry 8mm/10mm/12mm/14mm specular reflection lens, the maximum incident spot diameter of 8.5mm, used in optical scanning, laser marking, drilling, micro-processing, medical industry, the optical scanning system has a fast, low Drift, high positioning accuracy and reliable and stable operation, its comprehensive performance has reached the leading domestic level, mainly applicable to high-speed and on-line flight marking of optical fiber, YAG and CO2 lasers. This two-dimensional scanning galvanometer can choose different wavelengths, different power levels of the lens, support XY2-100 international common protocol.
This system adopts advanced servo control algorithm and high-efficiency photoelectric sensor positioning technology, and has reached the leading technology level of domestic similar products in terms of performance and positioning accuracy. The SCANhead8 series of high-speed scanning galvanometers uses optimized design for motor and lens loads, and has a higher response speed in the SCANhead series for faster application, strict incoming inspection, mature manufacturing processes, and long-term drift tests. And the aging test ensures the long-term stability of the system.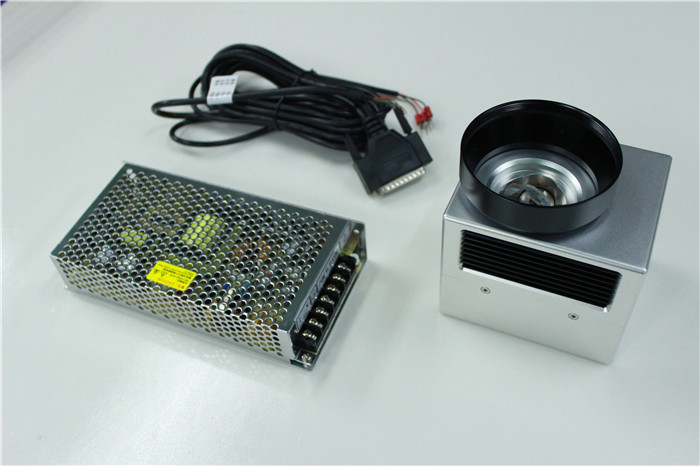 Laser Marking Machine Accessories
Laser Marking Machine Accessories,Laser Scanning,Scanning Mirrors,Field Lens
Guangdong Juguangheng Automation Equipment Co.,Ltd. , http://www.smtsupplier.net